To Exchange

We are always glad when our owners visit us here at the resort, but we understand that, sometimes, you just want to visit a new place. That's one of the perks owning a unit at Hillcrest Lake Villas in Abita Springs, La. You are able to exchange that week for a week at another resort. We would be glad to assist with your change of pace. Below are a variety of exchange options for you.
Resort Condominiums International Inc.
Resort Condominiums International Inc., is our most preferred exchange company, offering our guests a wide selection of alternative destinations which they can trade their own week against.
Visit Resort Condominiums International Inc.

7 Across is an exchange alternative. Free membership option and you have up to three years to use your week. To learn more click on the picture above.
Platinum Interchange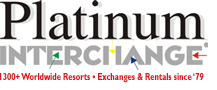 Platinum Interchange is a contact we have generated in order to give you, our owners, more options. They are a small exchange group whose main inflow of bankings center around the west coast, making your weeks a rare treat among their system.
New Horizons Exchange
Another option to consider for your next exchange is New Horizons. They replaced Butterfly Exchange, another small, but effective exchange company.
Crown Vacation Exchange


An affordable exchange alternative for timeshare owners who want to experience different vacation destinations without paying membership fees or high exchange fees.
Click on their links and visit their website to get a feel for each of these possibilities before making a final decision. If you feel they can't answer your questions, again, feel free to contact our helpful staff at the office. We will be glad to offer further assistance.
Office Hours
Monday- Friday
9am to 5pm
Saturday-Sunday
Closed

Check-in on Friday @ 4pm

Informative Meeting of Local Social Events
Saturday
8:30 am

Rental
1 Bedroom $----(7 night rental)
2 Bedroom $----(7 night rental)

1 Bedroom $--per night (min 2)
2 Bedroom $--per night (min 2)

Call For Rates

Timeshares For Sale

1 Bed Rooms
$1500.00

2 Bed Rooms
$2500.00

Includes: Transfer, Association, & First Year's Maintenance Fees.
CALL TODAY WHILE SPECIALS LAST!